This week is our biggest and best yet! Recipes for a Berry Banana Smoothie, Tequila Lime Shrimp, Chicken Fettuccine Alfredo, Crustless Pumpkin Pie and a Gooey Baked Apple. Let's get right to it!
================
Berry Banana Smoothie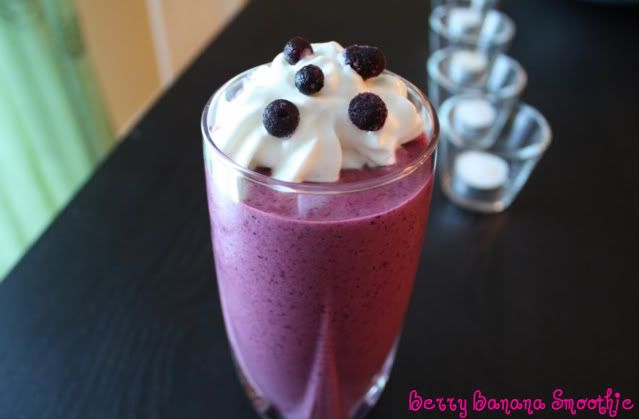 Ingredients
1 small banana
1/4 cups raspberries*
1/4 cup blueberries*
1/2 cup plain fat-free yogurt
1 cup fat-free skim milk
1/8 tsp vanilla extract, or to taste (you can also use honey)
Ice
Instructions
Break banana into pieces and place in blender with most berries, except 2 or 3 berries for garnish. Add yogurt, milk and vanilla. Blend together until smooth, about 15 to 20 seconds.
POINTS® Value 5
* I used a frozen Berry Blend from Whole Foods
Contributed by Jaime
no blog but leave a comment here and she'll see it :)
================
Tequila Lime Shrimp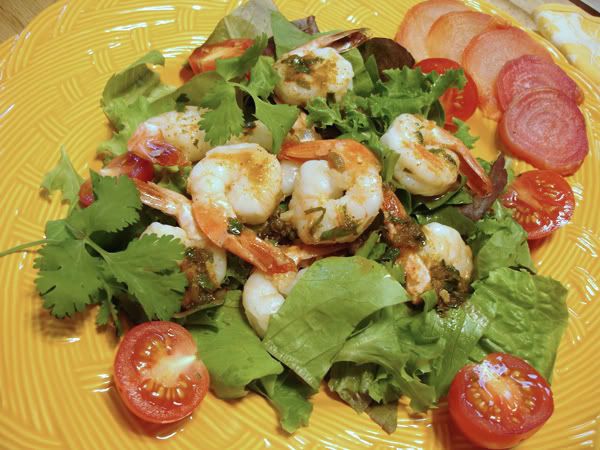 Ingredients
1/3 cup fresh lime juice
1/2 Tbsp jalapeno pepper(s), minced (don't touch seeds with bare hands)
1/2 tsp chili powder, chipotle-variety (I used regulare chili powder)
3/4 tsp sugar
3/4 fl oz tequila
1/4 cup cilantro, fresh, chopped, divided
1 Tbsp olive oil
1 medium garlic clove(s), minced
1/2 tsp sea salt, or to taste (plus some for garnish)
1 1/2 pound shrimp, jumbo-size, shelled and deveined (or leave tails on for a nicer presentation)
Directions
In a small bowl, combine lime juice, jalapeno, chili powder, sugar, tequila and 2 tablespoon of cilantro; set aside.
Heat oil in a large nonstick skillet over medium heat. Add garlic and salt; cook, stirring, until garlic is fragrant, about 1 minute. Add shrimp; sauté, until shrimp turn pink, about 4 minutes. Remove shrimp to a serving plate and cover to keep warm.
Add lime juice mixture to same skillet and place over high heat. Cook until alcohol burns off, stirring and scrapping sides of pan, about 2 minutes; pour over shrimp and garnish with remaining cilantro and more sea salt, if desired.
Yields about 3 ounces of shrimp per serving.
Points value not submitted
Contributed by Kim
My Plate, My World
================
Chicken Fettuccine Alfredo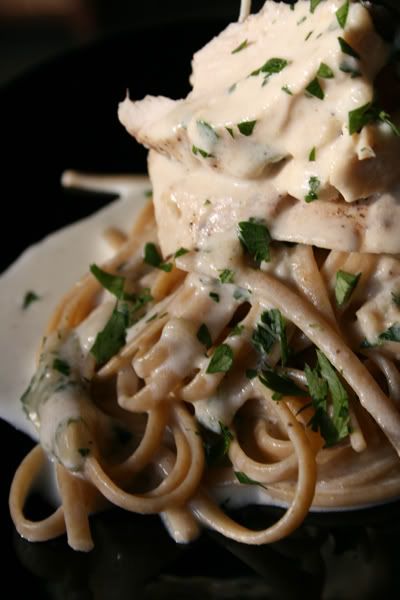 Ingredients
6 medium garlic cloves, peeled and smashed with a knife
1 lb skinless, boneless chicken breasts, washed and patted dry(four 4 oz
pieces)
1 tsp salt
1 tsp freshly ground black pepper
Cooking Spray
1/2 cup chicken stock
1/4 cup heavy cream
1/4 cup whole milk plain yogurt, Greek-Style
salt..for cooking pasta
8 oz uncooked whole wheat fettuccine
1/2 cup grated Parmesan Cheese
1/4 cup parsley, fresh, flat leaf, finely chopped
Instructions
Heat large, heavy skillet over medium heat
Rub garlic over chicken, reserve garlic. Season chicken with salt and pepper
and rub it in the chicken
Coat skillet w/ cooking spray and then set over medium heat. Saute garlic
until fragrant. about 1 minute. Add chicken and cook until golden, flipping
once, about 5 minutes per side
In a small bowl, combine broth, heavy cream and yogurt: pour over chicken
and scrape the bottom of the skillet to incorporate seasonings. Simmer
chicken gently, turning once, about 30 minutes.
Meanwhile, bring a medium pot of salted water to a boil and cook pasta
according to package directions; drain
Remove chicken from cream sauce and set aside. Add Parmesan cheese to cream
mixture and mix until well combined. Add cooked pasta and 3 Tbsp of parsley;
toss well. Serve pasta topped w/ chicken and the rest of the parsley.
POINTS® value: 9
Prep time: 12 minutes
Serves: 4
Contributed by Leslie
The Hungry Housewife
================
Crustless Pumpkin Pie

Ingredients
1 can (15 oz.) pumpkin
1 1/2 cup skim milk
1/2 cup egg substitute (or 3 egg whites)
1/2 t. salt
1 T. pumpkin pie spice
1 t. vanilla
2/3 cup granulated splenda
Directions
Combine all ingredients. Beat until smooth Pour into sprayed 9" pie plate and bake at 425 for 15 minutes. Reduce heat to 350 and bake for another 45 minutes. Served with one serving of fat free cool whip . . . 1 slice is 1 Weight Watchers' point and it's ONE QUARTER of the pie
Contributed by Patti
Patti Cakes
================
Gooey Baked Apple
1 small apple
2 tsp Splenda
2 tsp brown sugar divided
1 tsp I Can't Believe It's Not Butter, Light
1 tsp raisins
Combine Splenda and 1 tsp of the brown sugar in a small dish and set aside.
Remove core from apple, then hollow out some of the inside ensuring no seeds remain.  Pour the Splenda/brown-sugar mixture into the hollow of the apple. Wrap in foil and bake for 30-45 minutes until apple is cooked thru.
Melt the I Can't Believe It's Not Butter, Light then combine with remaining brown sugar and pour over apple... top with raisins and serve.
POINTS® Value: 2 per serving
Servings:1
Contributed by Em
The Repressed Pastry Chef