It's our inaugural post. Sure, it's small but everything's gotta start somewhere. I mean, take the mighty oak tree... it grows from the small acorn :)
This week's recipes are a Vanilla Bean Panna Cotta, a Spaghetti Casserole and Chocolate-Banana Wontons... and yes these are all Weight Watchers! Who says you can't eat well
and
lose weight?
Let's get it started.....
-------------------------------------------------------------------------------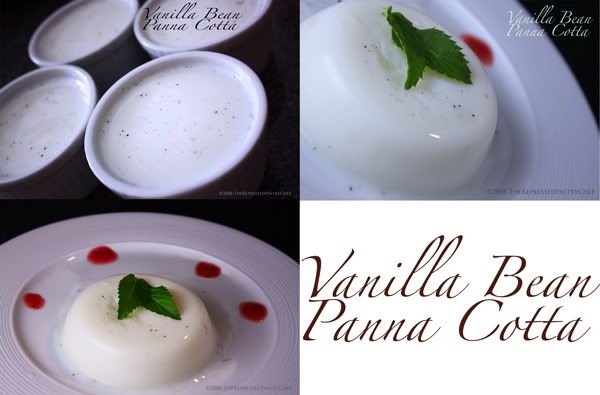 Adapted from Orange Panna Cotta recipe - Weight Watchers Slim Ways Italian
Ingredients
2 cups lowfat (1%) milk (4 POINTS®)
1/4 ounce unflavored gelatin (1 envelope) (0.5 POINTS®)
1/4 cup granulated Splenda (0.5 POINTS®)
1 teaspoon vanilla extract (0 POINTS®)
1/4 of one vanilla bean scraped (0 POINTS®)
Pinch salt
Directions
In a medium nonstick saucepan, combine the milk and gelatin; let stand about 5 minutes, until the gelatin softens. On the stove, gently warm the milk mixture over low heat, stirring until the gelatin is completely dissolved - about 5 minutes. Whisk in the sugar, vanilla, scraped vanilla bean and salt. Stir frequently and bring to a simmer. Pour evenly into four 1/2-cup ramekins. Cool for about 5 minutes then cover and refrigerate at least four hours.
When ready to serve, place the ramekin in a shallow dish with hot (not boiling!) water covering the ramekin about 1/4 way up. Wait about 2 minutes then remove from the water and run a sharp knife around the inside edge. Place a serving dish over the top then quickly invert so the serving plate is on the bottom. Say a lil prayer as you remove the ramekin so that the panna cotta slides out gracefully ;-)
POINTS® Value: 5
Servings: 4
Preparation Time: 5 min (plus additional refrigeration time)
Cooking Time: 25 min
Level of Difficulty: Easy
Course: dessert
Absolutely divine for a 1 point dessert! Totally optional (and not accounted for in the points total) I decorated with a little bit of pureed fresh strawberries.
Contributed by Em
The Repressed Pastry Chef
-------------------------------------------------------------------------------

POINTS® Value: 8
Servings: 2
Preparation Time: 15 min
Cooking Time: 30 min
Level of Difficulty: Easy
Course: main meals
Ingredients
160g spaghetti, uncooked
4 medium skinless chicken drumsticks
1 medium green pepper
2 spring onions
1 Oxo Chicken stock Cubes
1 teaspoon paprika
1 teaspoon salt
1 serving(s) Cracked black pepper
1/2 can Campbells Condensed 99% Fat Free Chicken Soup
2 tablespoon parmesan cheese
1/2 jar Peppadew Piquante Peppers
Instructions
Rinse the chicken, season and boil. Remove skin and discard. Then remove the meat from the bone. set aside to cool.
Break the spaghetti into shorter sticks and boil until aldente. Drain and transfer to a bowl,
Add half a can of chicken soup, salt, chicken stock cube, pepper, paprika, chicken, peppers etc Add some water of the mixture is too thick.
Top wth the cheddar and bake at 190 degrees celsius for 30 minutes.
Contributed by Tosin (no personal blog but hey leave a comment for her here and she'll see it!)
-------------------------------------------------------------------------------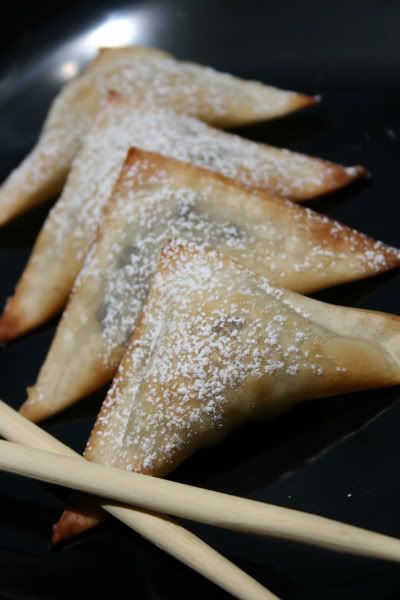 Ingredients
2 serving butter-flavor cooking spray
1 large banana(s), diced
6 Tbsp mini chocolate chips
24 items wonton wrapper(s), half of a 12 oz package
1 Tbsp powdered sugar


Directions
Preheat oven to 350ºF. Coat a large baking sheet with cooking spray.
In a medium bowl, combine banana and chocolate chips; mix gently.
Place wonton wrappers on a flat surface. Drop banana mixture by teaspoonfuls onto center of each wrapper. Moisten edges of wrapper with wet fingers, fold over one corner to make a triangle and press sides together to seal. Transfer filled wrappers to prepared baking sheet and coat surface with cooking spray.
Bake until wontons are golden brown, about 10 to 12 minutes. Sift powdered sugar over wontons before serving. Yields 4 wontons per serving.
POINTS® Value: 4
Servings: 6
Preparation Time: 10 min
Cooking Time: 12 min
Level of Difficulty: Moderate (not really..it was simple)
Contributed by Leslie
The Hungry Housewife