Hey There! Hi There! Yes, woohoo, it's another Weight Watcher Wednesday! This week we have Vanilla Poundcake w/Peach Ginger Sorbet, Chicken with Broccoli and Garlic Sauce, Vegetable Lasagna and a solution for what to do with leftover rice (why, make a WW-friendly rice pudding, of course! LOL)
Each week we try to bring you good FOR YOU recipes that are beautiful as well.
Please join us and share a WW-friendly recipe you've made... one recipe a week is all we ask :)
=================
Vanilla Poundcake w/Peach Ginger Sorbet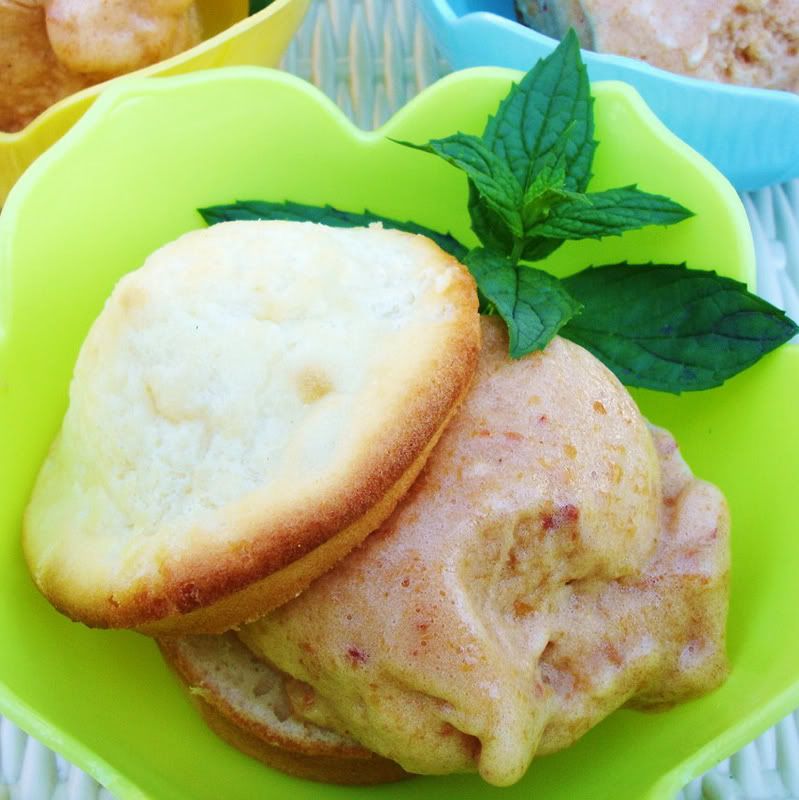 Vanilla Poundcakes
makes 12 poundcakes
POINTS® Value: 4
2 large egg(s)
3 large egg white(s)
2 1/2 tsp vanilla extract
1 tsp almond extract
8 oz light cream cheese(room temperature)
3 1/2 Tbsp butter(room temperature)
2 1/2 Tbsp vanilla sugar
3/4 tsp baking powder
1/4 tsp salt
1 3/4 cup all purpose flour
white sanding sugar(optional)
Preheat oven to 350ºF. Coat 2 regular muffin tins with cooking spray.
In a medium bowl, whisk together eggs, egg whites, vanilla extract and almond extract; set aside. In a separate bowl light mix the sugar, baking powder and salt until blended.
In a large mixing bowl, beat together cream cheese and butter until blended. Beat in flour and egg mixture, little by little, beginning and ending with flour.
Pour batter into prepared pans, sprinkle with the sanding sugar and bake until a wooden toothpick inserted in center of cake comes out clean, about 25 to 30minutes.
Cool cake in pan on a wire rack.
Peach and Ginger Sorbet
makes 8 half cup servings
POINTS® value per serving: 2
1/2 cup water
1/3 cup sugar
1/3 cup light corn syrup
2 tsp dried ground ginger
1 1/2 pounds fresh peaches, pitted and quartered
3 Tbsp lemon juice
1/4 tsp salt
Combine the water, sugar, corn syrup, and ground ginger in a small saucepan set over medium-high heat until the sugar dissolves. Bring to a simmer; boil 1 minute without stirring. Set aside 5 minutes to cool.
Pour the sugar mixture into a large blender or food processor fitted with the chopping blade. Add the peaches, lemon juice, and salt. Blend or process until puréed. Pour into a large bowl, cover, and refrigerate at least 8 hours or overnight.
Place the mixture and the dasher (the plastic piece that aerates the sorbet in the freezer for 5 minutes prior to processing in the machine. Pour the mixture into an ice cream machine and freeze according to the manufacturer's instructions.
Contributed by Kim
My Plate, My World
==============
Chicken with Broccoli and Garlic Sauce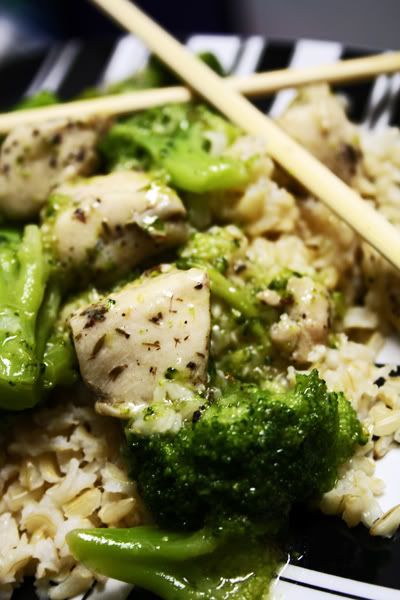 POINTS® Value: 5
Servings: 4
Prep Time: 17 minutes
Cooking Time: 15 minutes
Ingredients
2 tsp Olive oil
3 Medium garlic clove(s), minced, or more to taste
1 pound Uncooked chicken breast, boneless and skinless, cut into 1-inch pieces
1 tsp Dried thyme, or 2 tbsp fresh minced thyme, or to taste
1/2 tsp Table salt
1/4 tsp Black pepper
2 cup Broccoli, florets
1 1/2 cup Canned chicken broth, reduced-sodium
1 1/2 tbsp Cornstarch
2 cup Cooked brown rice, kept hot
Preparation
Heat oil in a large skillet over medium-high heat. Add garlic and cook 1 minute. Season chicken with thyme, salt and pepper and add to skillet. Cook until browned on all sides, stirring frequently, about 3 minutes.
Add broccoli to skillet, cover and cook 2 minutes. Add 1 cup of broth, cover and simmer until chicken is cooked through, about 5 minutes.
Dissolve cornstarch in remaining 1/2 cup of broth and add mixture to skillet. Simmer until mixture thickens, stirring constantly, about 1 minute. Serve over rice. Yields about 1 cup of chicken mixture and 1/2 cup of rice per serving
Contributed by Leslie
The Hungry Housewife
==============
Vegetable Lasagna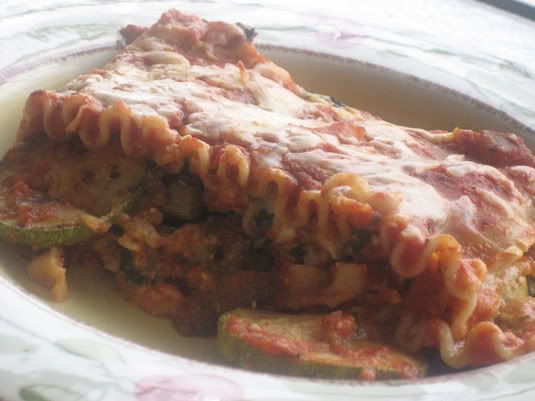 (I noted some changes that I made in parenthesis...but the point value reflects the original recipe, unchanged)
Serving size: 1/12 of lasagna
POINTS® Value: 6
9 lasagna noodles (I used whole-wheat to make it even healthier)
2 medium yellow squash, cut lengthwise into 1/4 inch slices
1 16-ounce container fat-free cottage cheese (I used 1%)
1 10-ounce package frozen spinach, thawed and squeezed dry
3 cups shredded part-skim mozzarella cheese
1/2 cup grated Parmesan cheese
2 large eggs, lightly beaten
1/4 cup chopped fresh basil
1 garlic clove, crushed through a press (I used 3 cloves, minced)
1/2 teaspoon salt
1 24-ounce jar marinara sauce
I also added a bunch of asparagus and a zucchini to the squash layer.
Cook the noodles according to package directions. Drain and rinse, set aside.
Spray a large nonstick skillet with nonstick spray and set over medium-high heat. Add the squash and cook until golden, 2-3 minutes per side. Set aside.
Combine the cottage cheese, spinach, 2 cups of the mozzarella, 1/4 cup of Parmesan, eggs, basil, garlic, and salt.
Preheat the oven to 375 degrees. Spread 1 cup sauce in 9x13 baking dish. Top with 3 noodles, 2 cups filling and the squash (here is where I added asparagus and squash). Top with 3 noodles, 1 cup sauce, and remaining filling. Top with remaining noodles, sauce and cheeses. Cover and bake 30 minutes. Uncover. Bake 20 minutes. Let stand 10 minutes before serving.
Contributed by Aggie
Aggies Kitchen
==============
Leslie's Leftover Rice Pudding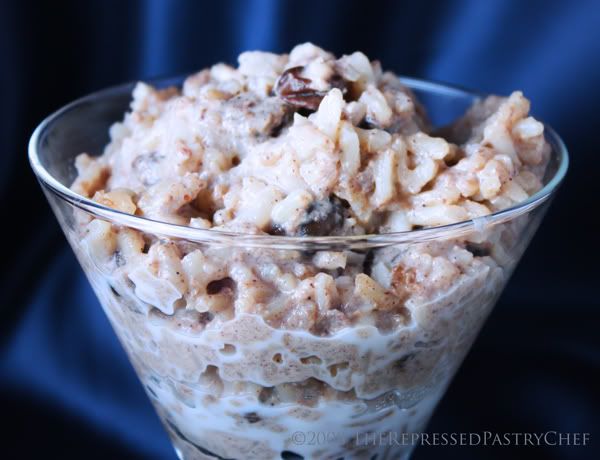 POINTS® Value: 5
Servings: 2
1 cup cooked rice
1 1/2 cup skim milk
1/4 cup splenda
pinch salt
1 tsp vanilla
1/4 cup raisins
Cinnamon, nutmeg, all spice.. amounts to taste
Bring first 6 ingredients to a boil then reduce heat and cook until most of the milk is absorbed. When the desired consistency has been achieved, add the spices.
Contributed by Em
The Repressed Pastry Chef