This week we have some fabulous new dishes to share... Barbecue Chicken Wings, Low Fat Coleslaw, Butternut Squash Fries, Cream Cheese Filled Strawberries and a Lemon Raspberry-Cream Sponge Roll... Enjoy!!
=================================================
Cream Cheese Filled Strawberries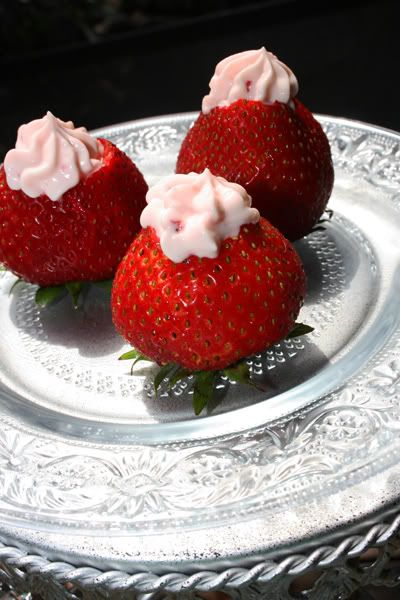 Ingredients
1 pound Strawberries, jumbo-size (about 18 strawberries)
4 oz Light cream cheese, at room temperature
1/2 cup Powdered sugar
1/2 tsp Vanilla extract
POINTS® Value: 2 per serving
Servings:6
Preparation
Wash and dry strawberries (leave green caps on).
Using a paring knife, cut a wide v-shape out of the pointed end of each
strawberry (like an open mouth); reserve cut out pieces of strawberries.
Place cut strawberries on a serving plate, green cap side down so they will
be easy to fill.
Using an electric mixer, thoroughly combine cream cheese, sugar and vanilla
in a medium bowl.
Chop reserved leftover bits of strawberries into tiny pieces and gently stir
into cream cheese mixture with a spoon.
Fill each cut strawberry with a small amount of cream cheese mixture using a
spatula or knife. Arrange filled strawberries on a serving plate, green cap
side down. Yields about 3 strawberries per serving.
Contributed by Leslie
The Hungry Housewife
=================================================
Lemon Raspberry-Cream Sponge Roll
Ingredients
2 tablespoons confectioners' sugar
4 large eggs separated
3 additional egg whites, at room temperature
3/4 cup granulated Splenda
2 tablespoons finely grated lemon zest
2 tablespoons fresh lemon juice
pinch salt
3/4 cup + 3 tablespoons sifted cake flour
3/4 cup Sugar Free Cool Whip
1/2 cup fresh raspberry puree
POINTS® Value: 2 per serving
Servings:10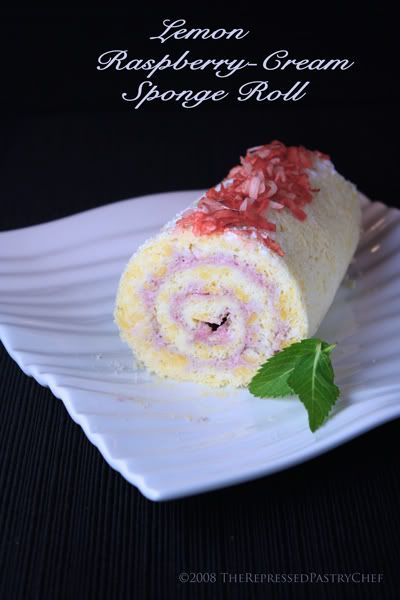 Directions
Preheat the oven to 350F
Line a 15" x 10" x 1" jelly roll pan with wax paper; dust a clean dish towel with 1 tablespoon of the confectioners' sugar
In a medium bowl, with a stand mixer or hand mixer beat all 7 of the egg whites until soft peaks form
In a large bowl, with a whisk, beat the egg yolks until they are thick; gradually whisk in the granulated Splenda beating until thick and light. Add the lemon zest, lemon juice and salt; beat to combine. Gradually stir in the flour, mixing well. Stir one-fourth of the egg whites into the bater; with a rubber spatula, gently fold in the remaining whites. Spread the batter in the pan. bake until golden and the top springs back when touched lightly with finger, 12-15 minutes.
Run a knife around the edge of the pan; invert the cake onto the dishtowel. Peel the wax paper off the cake. Starting at the narrow end, roll up the cake with the towel. Transfer to a rack and cool completely.
Combine the Cool Whip and raspberry puree in a bowl and set aside.
Unroll the cake and remove the towel. Spread the Cool Whip mixture over the cake and re-roll. Place the cake, seam-side down, on a serving platter; dust with remaining tablespoon of confectioners' sugar.
As an optional garnish (not accounted for in the points value) take shredded coconut, mix with a very small amount of gel or powder icing color and sprinkle over top of cake.
Contributed by Em
The Repressed Pastry Chef
=================================================
Barbecued Chicken Wings, Low-Fat Cole Slaw and Butternut Squash Fries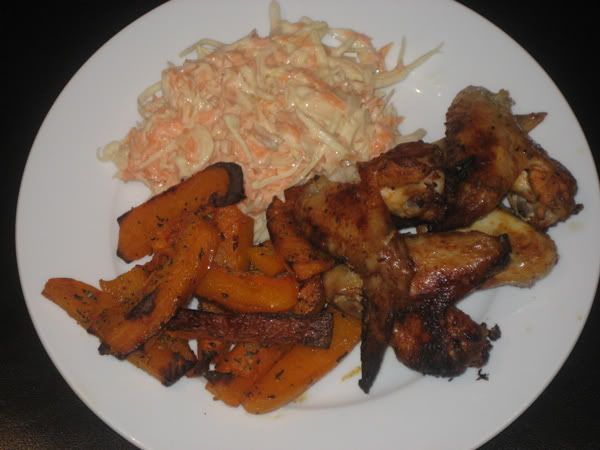 Barbecued Chicken Wings
POINTS® Value: 1 point per chicken wing
Servings: 12
Preparation Time: 10 min
Cooking Time: 30 min
Level of Difficulty: Easy
Course: main meals
Ingredients
12 chicken wings
2 tablespoon tomato ketchup
1 portion Oxo Chicken Cubes
2 tablespoon worcestershire sauce
1 teaspoon salt
1 teaspoon Cracked black pepper
1 heaped teaspoon mustard
2 cloves of garlic, crushed
Instructions

Mix all the ingredients (except chicken) together, rub into the chicken wings and leave to marinate for an hour.
Arrange on a baking sheet and roast in a hot oven (200 celsius) for 30 minutes until nicely browned and cooked through.
Serve with low fat coleslaw and butternut squash fries (recipes below).
Low-Fat Cole Slaw
(1.5 points for the whole lot)
Finely shred 1/4 cabbage and grate 2 large carrots. Mix with 6 tablespoons of hellman's extra light mayonnaise, salt, pepper and 1tbsp maple syrup
Butternut Squash Fries
(0 points)
Peel, deseed and cut a medium sized butternut squash into fries, season with salt, pepper, chopped rosemary and crushed garlic. Spray lightly with PAM and roast in a hot oven (200 celsius) for 1 hour until golden brown and caramelised at the edges.
Contributed by Tosin (no blog but leave a comment for her here and she'll see it!!)