Peach Yogurt Parfait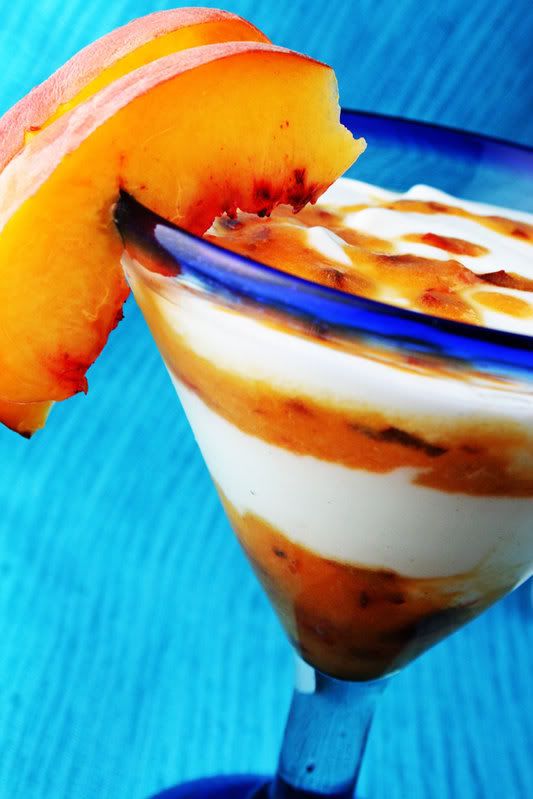 Ingredients
I cup Plain fat free Yogurt
2 Packets Splenda
1 tsp vanilla
1 small peach
Directions
Mix together Yogurt, Splenda and vanilla
Cut peach and place in mini food processor and blend away
Arrange peach puree and yogurt to look all nice and pretty in a glass
Eat away with no guilt involved!
Points: 3
Serves: 1
Difficulty: Easy Peasy
Contributed by Leslie
The Hungry Housewife
========================
Blueberry-Lemon Muffins
recipe from Weight Watchers Annual Recipes for Success 2006
(makes 12) I got 10
Ingredients
2 cups all-purpose flour
⅔ cup granulated sugar
1 ½ tsp baking powder
½ tsp baking soda
¼ tsp salt
1 cup fresh blueberries
1 tbsp grated lemon rind, divided
¾ cup low-fat buttermilk
3 tbsp butter, melted
1 tbsp fresh lemon juice, divided
1 large egg, lightly beaten
½ cup powdered sugar
Directions
1. Preheat oven to 400 degrees
2. Combine flour, sugar, baking powder and baking soda into a medium bowl and whisk well.
3. Add blueberries and 2 teaspoons of lemon rind and toss gently. Make a well in the center of the mixture.
4. Combine buttermilk, butter, 1 teaspoon lemon juice, and the egg into a bowl. Whisk well.
5. Add buttermilk mixture into the well in the flour mixture.
6. Stir mixture thoroughly in no more that 13 turns of the bowl. (Alton says so)
7. Scoop batter into muffin tins. I used cupcake papers but you can put the batter directly into the muffin tins if you spray it with cooking spray before scooping in the batter.
8. Bake muffins for 17 to 18 minutes or until golden brown. Remove muffins from the pan immediately and cool on a wire rack.
9. Combine powdered sugar, remaining 1 teaspoon lemon rind and remaining 2 teaspoons of lemon juice in a small bowl. Stir until smooth. Drizzle on muffins.
Points value = 4
Contributed by JaySpice
COOKIES, CUPCAKES, DESSERTS...OH MY!