Happy Weight Watcher Wednesday! This week we have some great recipes for you... Lemon Poppy Seed Muffins, a Mustard Dill Chicken and Banana Bread Muffins... all full on flavor but skinny on calories!
Each week we try to bring you good FOR YOU recipes that are beautiful as well.
Please join us and share a WW-friendly recipe you've made... one recipe a week is all we ask :)
=================
Lemon Poppy Seed Muffins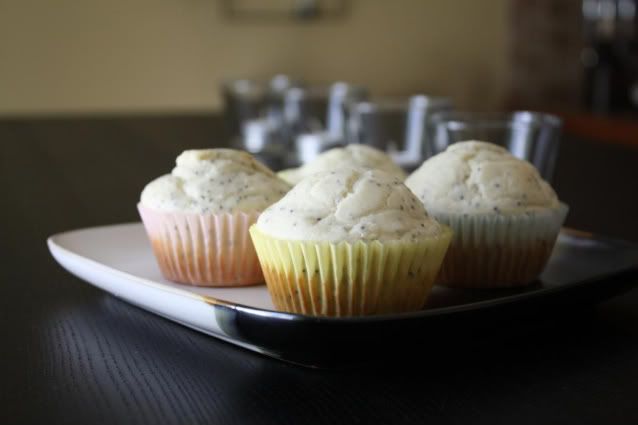 Servings- 12
Prep Time- 15 minutes
Cooking Time- 20 minutes
WW Points- 2 points per muffin
Ingredients
1 ¾ cup all-purpose flour
¾ Tbsp sugar
2 ½ tsp baking powder
½ tsp table salt
1 Tbsp lemon zest (I used 1 tsp lemon extract instead)
1 Tbsp poppy seeds
1 ¼ cup low fat buttermilk
2 Tbsp melted butter
1 Large egg, lightly beaten
Instructions
Preheat oven to 400°F.
Place 12 muffin cup liners in muffin cups.
Combine flour and the next four ingredients in a medium bowl; stir well with a whisk. Stir in lemon and poppy seeds; make a well in the center of mixture. Combine buttermilk, butter, and egg; stir well with a whisk. Add to flour mixture and mix until moist.
Spoon batter into muffin cups; fill ¾ full. Bake at 400°F for 20 to 22 minutes or until golden brown.
Cool in pan for 5 minutes on a wire rack; remove from pan and cool completely.
Contributed by Jamie
My Baking Addiction
===========
Mustard-Dill Chicken
Servings: 4
Preparation Time: 8 min
Cooking Time: 25 min
Level of Difficulty: Easy
Weight Watchers.com
Cooking this dish in foil helps steam the chicken so it stays moist. Not a fan of dill? Try another spice, such as curry or hot paprika.
Ingredients
1/4 cup Dijon mustard
1/4 cup plain fat-free yogurt
1/2 tsp garlic salt
1 Tbsp dried dill weed
1 pound uncooked boneless, skinless chicken breast, four 4 oz pieces
Instructions
Preheat oven to 350°F.
In a small bowl, combine mustard, yogurt, garlic salt and dill. Place chicken on a plate; thoroughly coat chicken with mustard sauce.
Tear off 4 sheets of aluminum foil that are large enough to wrap each chicken breast individually. Place a prepared chicken breast on each piece of foil; gather foil loosely around chicken and fold over to seal.
Place foil packs on a nonstick baking sheet; bake for 20 minutes. Using oven mitts and keeping your face away from steam, open foil. Broil chicken on foil until lightly browned and cooked through, about 3 to 5 minutes more. Yields 1 piece of chicken per serving.
Contributed by Leslie
The Hungry Housewife
==============
Banana Bread Muffins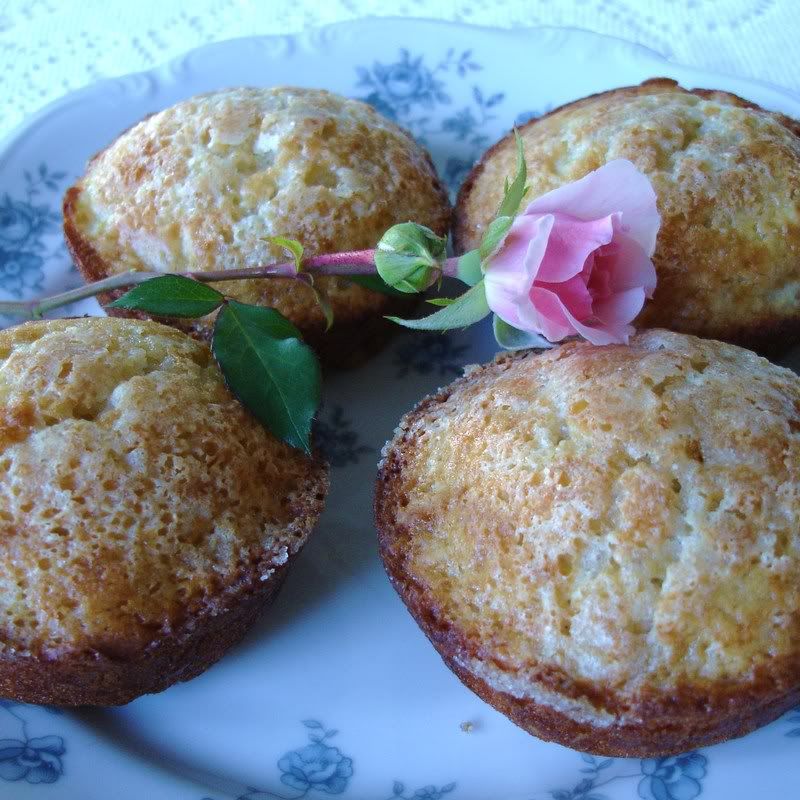 6 servings
points value 2
1/2 cup all-purpose flour
3 tbl sugar, I used my vanilla sugar
1/4 tsp baking powder
1/4 tsp baking soda
a pinch of cardamom
a pinch of cinnamon
dash of salt
1/4 cup 0% fat Greek yogurt (the recipe calls for 30% less fat sour cream)
1/4 cup mashed ripe banana (about 1/2 a banana)
1 tsp canola oil (the recipe calls for vegetable oil)
1/4 tsp vanilla extract
1 large egg white, lightly beaten
cooking spray
vanilla sugar for sprinkling on the tops
Preheat oven to 350 degrees.
Combine first 7 ingredients in a medium bowl: make a well in the center of mixture.
Combine yogurt and next 4 ingredients; stir well. Add to the flour mixture, stirring until just moist.
Spoon batter into 1 regular muffin tin which has been coated with cooking spray. Sprinkle the tops of the muffins with a bit of the vanilla sugar. Bake at 350 for about 20-25 minutes or until a toothpick inserted in the middle comes out clean. Let cool in the pan about 10 minutes, then remove and finish cooling on a wire rack, unless you want to eat them warm. If you are baking a loaf, use a 6 x 3 x 2 inch pan coated with cooking spray and the baking time will be about 35 minutes. Finish cooling the same as the muffins.
Contributed by Kim
My Plate My World