Grilled Mexican Corn Salad with Mango and Jicama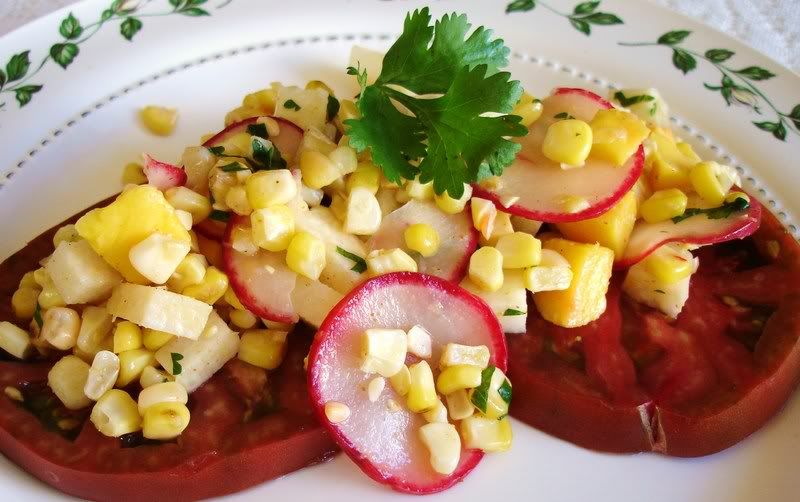 serves 4 as a main course
POINTS® Value: 5
4 medium corn on the cob, shucked
cooking spray
6 medium radishes, red, thinly sliced
1 medium jicama, cut into 1/4-inch cubes (about 1 lb)
1 medium mango(es), ripe, cut into 1/2-inch cubes
2 Tbsp cilantro, fresh, chopped
3 Tbsp fresh lime juice
2 Tbsp olive oil, extra virgin
1/2 tsp ground cumin
1/4 tsp table salt
1/4 tsp cayenne pepper
1 large tomato(es), or 2 small, ripe, sliced into eight 1/4-inch-thick slices
Preheat stovetop grill pan or an outdoor grill. Lightly spray corn with cooking spray and grill until browned on all sides, turning occasionally, about 7 to 10 minutes; remove from heat and allow to cool. When cool enough to handle, slice off kernels with a knife into a large bowl.
Add radishes, jicama, mango, cilantro, lime juice, oil, cumin, salt and pepper to bowl; mix to combine.
Place 2 slices of tomato on each of 4 plates and top each with 3/4 cup of corn mixture.
Contributed by Kim
My Plate, My World
=========