Happy Weight Watcher Wednesday! This week we have a tasty zero point Cucumber Salad with Yogurt Dressing  (zero points?  can't beat that!!!) and some flavorful Parmesan-Herb Bread Rounds that are good served hot or cold.  Yummmm!
Each week we try to bring you good FOR YOU recipes that are beautiful as well.
Please join us and share a WW-friendly recipe you've made... one recipe a week is all we ask :)
============
Parmesan-Herb Bread Rounds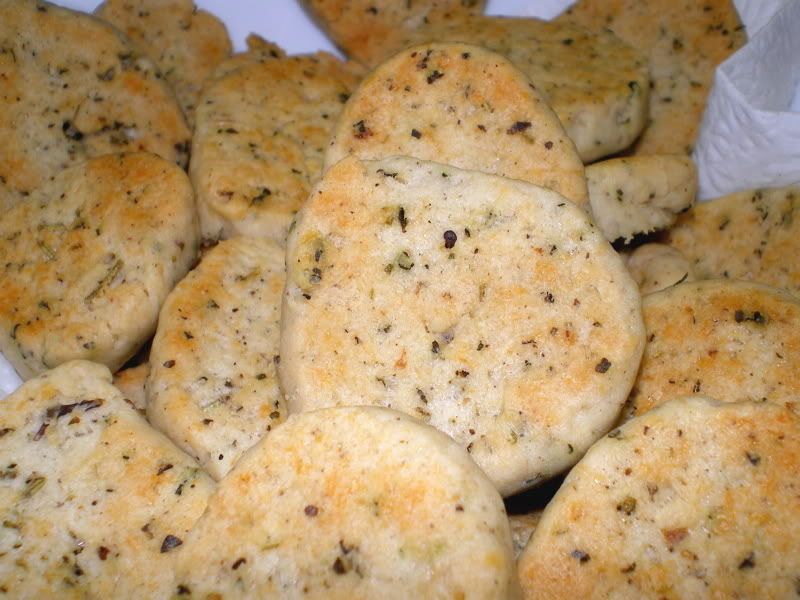 Ingredients
1/2c I Can't Believe It's Not Butter - Light
1/4c Reduced Fat Parmesan Cheese
1 1/4c all purpose flour
2 tsp of your favorite dried herbs
1 tsp cracked pepper
pinch salt
Directions
Preheat oven to 350F
Line a baking sheet with parchment paper. Set aside.
In a mixing bowl, mix together the butter, salt, parmesan, pepper and herbs until creamy
Slowly add the flour, and mix until dough holds together when pinched. If dough is still too crumbly, add up to 1 tablespoon of ice water
Turn out onto a lightly floured surface, roll into a ball and then into a long tube shape about 12" long
Wrap in foil and freeze for at least half an hour,
Remove from the freezer, and slice into rounds using a serrated knife
Place on a parchment lined baking sheet and bake for 10 minutes then turn each one over - the bottom should be just starting to brown before turning - and bake 5-15 minutes longer, checking after 5 minutes
Remove from oven and eat
Yield 24-36 rounds depending on size
POINTS® Value: 23 for entire recipe... about 1pt ea depending on number of rounds cut from tube
Contributed by Em
The Repressed Pastry Chef
============
Cucumber Salad with Yogurt Dressing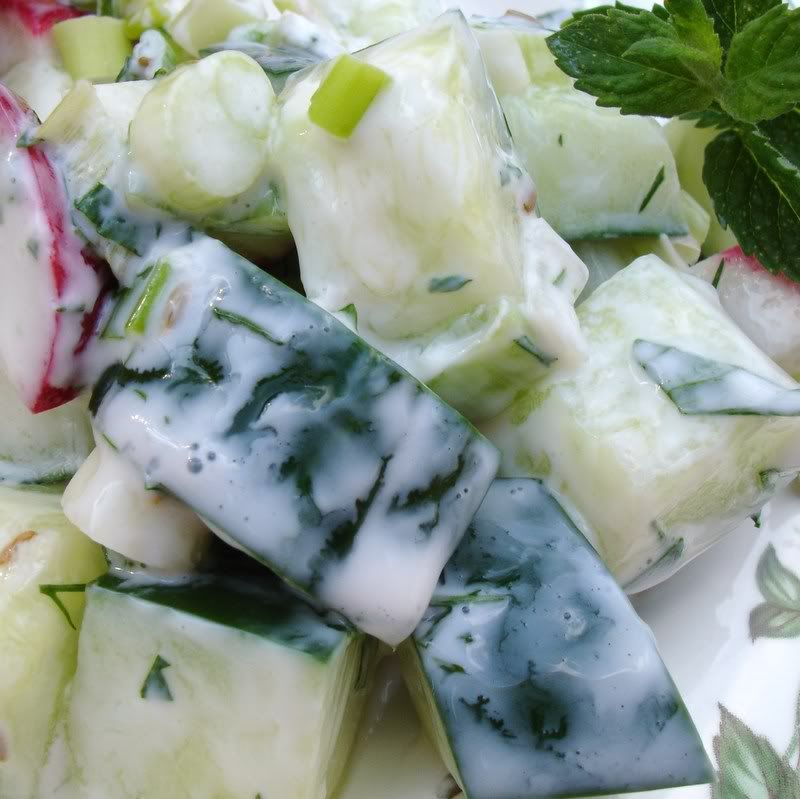 Ingredients
1 medium English cucumber, cut into bite-size pieces
1 cup scallions, chopped
1 cup radish, cut into bite-size pieces
4 oz plain fat-free Greek yogurt
2 Tbsp fresh lemon juice
2 Tbsp fresh mint, chopped
1 Tbsp fresh dill, chopped
¾ tsp table salt
¾ tsp cumin seeds (optional)
Directions
In a medium bowl, combine cucumber, scallions and radish. In a small bowl, mix together yogurt, lemon juice, mint, dill, salt and cumin seeds; spoon over cucumber mixture and toss to mix and coat.
Yields about 1 cup per serving.
POINTS® value 0 per serving
Contributed by Kim
My Plate My World
==============