Black Bean Soup
With Fall at our doorstep I knew it was time to break out this favorite Weight Watcher recipe. I pair this with the Pan Bagnat recipe I made last week. It makes the perfect lunch with girlfriends! This recipe was adapted from the Weight Watchers New Complete Cookbook - Black Bean Soup (page 74) Makes 4 servings
Black Bean Soup
2 teaspoon olive oil 2 onions, chopped 2 jalapeno peppers, seeded, deveined and chopped (wear gloves to prevent irritation) I substitute 2 oz chopped green chillies in a can for a little less heat 1 garlic clove, minced 1 (15 oz) can black beans, rinsed and drained 2 cups low sodium chicken broth 1 teaspoon ground cumin 1 teaspoon ground coriander 2 Tablespoons dry sherry 1 teaspoon lime juice 1/2 teaspoon salt 2 Tablespoons chopped cilantro 1 small onion or 2 scallions, minced 1. In a medium nonstick saucepan, heat the oil. Saute the chopped onions, jalapenos and garlic until softened, about 5 minutes. Stir in the beans, broth, cumin, coriander and 1 cup water; bring to a boil. Reduce the heat and simmer, covered, until the flavors are blended, about 45 minutes. Remove from the heat; stir in the sherry, lime juice and salt. Cool slightly. 2. Transfer the soup to a food processor or blender; puree. Pour back into the saucepan and heat to serving temperature. Serve, topped with the minced onion and cilantro. Per serving: 207 Calories, 4 g Total Fat, 1 g Saturated Fat, 0 mg cholesterol, 292 mg Sodium, 31 g Total Carbohydrate, 7g Dietary Fiber, 11g Protein, 78 mg Calcium. Points:4 per serving.
Contributed by Rindy
Kitchen Klique
===================
Roasted Vegetable Lasagna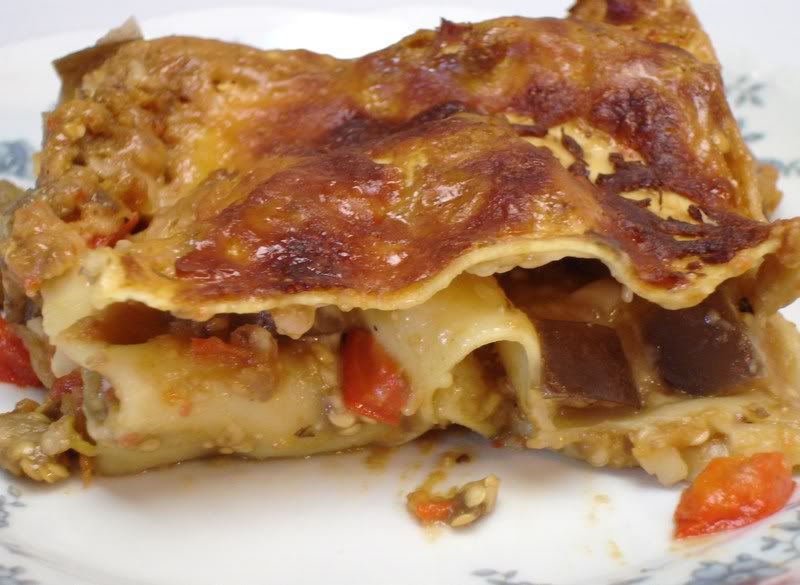 serves 6
Points Value: 5
3 medium raw eggplant, cut into 1/2-inch pieces
3 medium sweet red pepper(s), chopped
4 small tomato(es), plum, seeded and chopped
4 medium garlic clove(s), peeled and chopped
2 tsp olive oil
1 tsp table salt, or more to taste
1/4 tsp black pepper, or more to taste
9 serving dry no-boil lasagna noodles, 9 noodles,
1/4 cup grated Parmesan cheese
3/4 cup part-skim mozzarella cheese, shredded
Preheat oven to 425°F.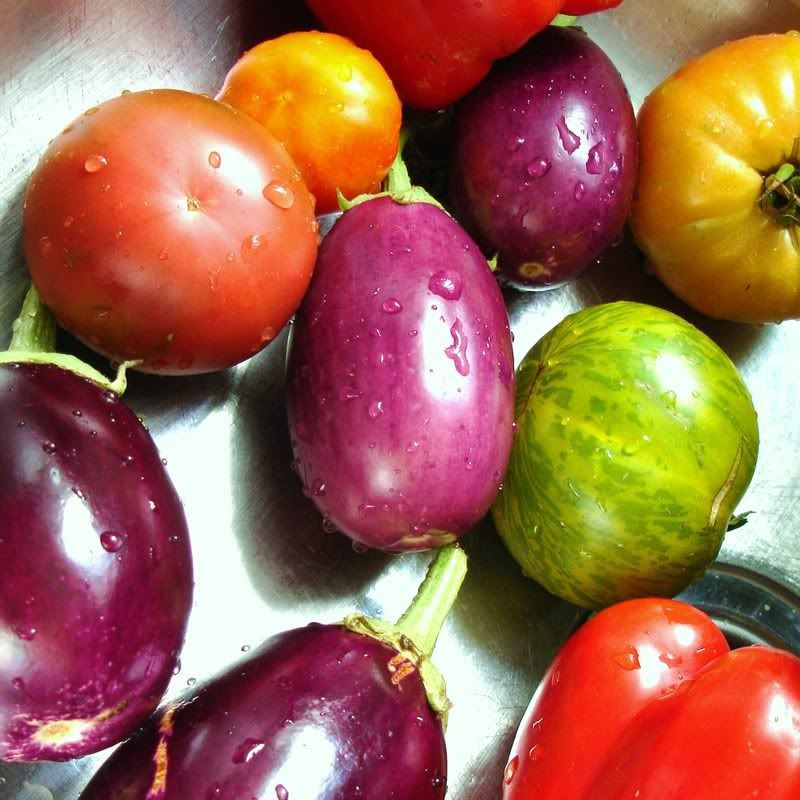 In roasting pan, combine vegetables and garlic with olive oil. Bake until vegetables are tender, stirring occasionally, about 20 to 25 minutes.
Place half of vegetables, salt and pepper, and 1/2 cup water in food processor and process until smooth.
Spoon 1/2 cup of vegetable purée into bottom of a 9 X 13-inch baking dish.
Place three noodles over purée. Top with 1/2 cup of purée, 1/2 of remaining vegetables, 2 tablespoons of Parmesan cheese and 1/4 cup of mozzarella cheese. Repeat layers and then top with remaining 3 noodles, purée and cheese.
Bake until bubbly, about 40 to 45 minutes.I would suggest covering with foil for the first 30 minutes and then uncover the last 10 so the cheese will brown a bit. Slice into 6 pieces and serve.
Contributed by Kim
My Plate, My World