Fettuccine with Walnut Sauce
Kitchen Klique



This is a lovely dish that is ready in the amount of time it takes to cook the pasta. This recipe proves you don't have to sacrifice taste and quality when you are in a rush! It comes out of the "New Complete Cookbook" on page 400.



Weight Watchers Fettuccine with Walnut Sauce


Serves 4
1/2 cup part-skim ricotta cheese
1/4 cup low-sodium chicken broth
1 teaspoon grated lemon zest
6 ounces fettuccine
1/4 cup walnuts, chopped
1/4 cup crumbled Gorgonzola cheese
2 Tablspoons minced flat-leaf parsley

1. In a small bowl, combine the ricotta, broth and lemon zest; mix until smooth.
2. Cook the fettuccine according to package directions; drain and place in a serving bowl. Top with ricotta mixture, then sprinkle with walnuts, Gorgonzola and parsley; toss to coat.

Per Serving: 271 callories, 10g total Fat, 3 g Saturated Fatt, 55 mg Cholesterol, 129 mg Sodium, 33g Total Carbs, 2g Fiber, 12g Protein, 136 g Calcium.
Total Points per Serving: 6.





=========================


Chocolate Sauced Pears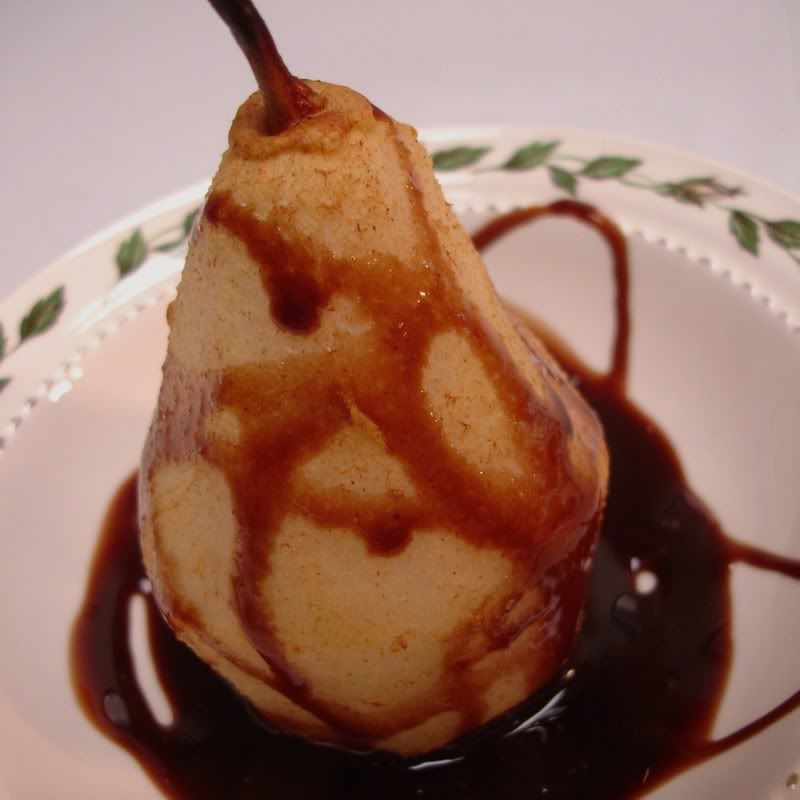 Contributed by Kim
My Plate, My World
Chocolate Sauced Pears
serves 2
WW points: 1
2 small Bartlett pears
1 tbl lemon juice
1 tsp vanilla extract
1/4 tsp cinnamon
1 tbl chocolate flavored syrup
Core pears from bottom end using a small melon baller, leaving stems intact; peel pears. Cut a thin slice from bottoms of pears to help stand upright. Place pears in a small baking dish.
Stir together lemon juice, vanilla and cinnamon. Brush mixture on pears, pouring remaining liquid in bottom of pan.
Bake at 375*F for 30 to 35 minutes or till tender. Cool slightly. Strain baking liquid and pour into a small bowl. Stir in chocolate syrup and pour into 4 individual dessert bowls. Add pear to each bowl, standing up. Serve warm.
This is where I had the problem with the recipe. All the cooking liquid baked away.
So, if this happens, just place them in little dessert bowls and drizzles with the chocolate sauce and dig in!