Chocolate Chip "Cakies"
Whenever I go back on WW - I always start by whipping up a batch of these! They are only 1 point and they remind me of the chocolate drop cookies my mom used to make. I found the recipe in the "Simply the Best" WW cookbook.
2 cups all-purpose flour
1/4 cup unsweetened cocoa powder, sifted
1 teaspoon salt
1/2 cup firmly packed light brown sugar
1/4 unsalted stick margarine
1/3 cup fat-free egg substitute
3/4 cup plain low-fat yogurt
1 cup semisweet chocolate chips
1. Arrange the oven racks to divide the oven into thirds. Preheat oven to 375.
2. In a medium bowl, combine the flour, cocoa, baking soda and salt.
3. In a large bowl, with an electric mixer at high speed, beat the sugar, margarine and egg substitiue until light and fluffy. With the mixer at low speed, gradually add the flour mixture, the yogurt, vanilla and chocolate chips, stir until just combined (do not over mix).
4. Drop the dough by Tablespoons onto 2 ungreased baking sheets, making 24 cookies. Bake until firm, about 10 minutes. Cool completely on a rack. Store in an air-tight container for 3 to 4 days. I keep in frig and microwave them for 8 seconds.
Add a dollop of Fat Free Cool whip and you are set for the night!
Per serving: 97 Calories, 3 g. Fat, 1 g. Saturated Fat, 1 g Fiber, 2 g Protein
1 point per serving!
Contributed by Rindy
Kitchen Klique
=================
Apple Cake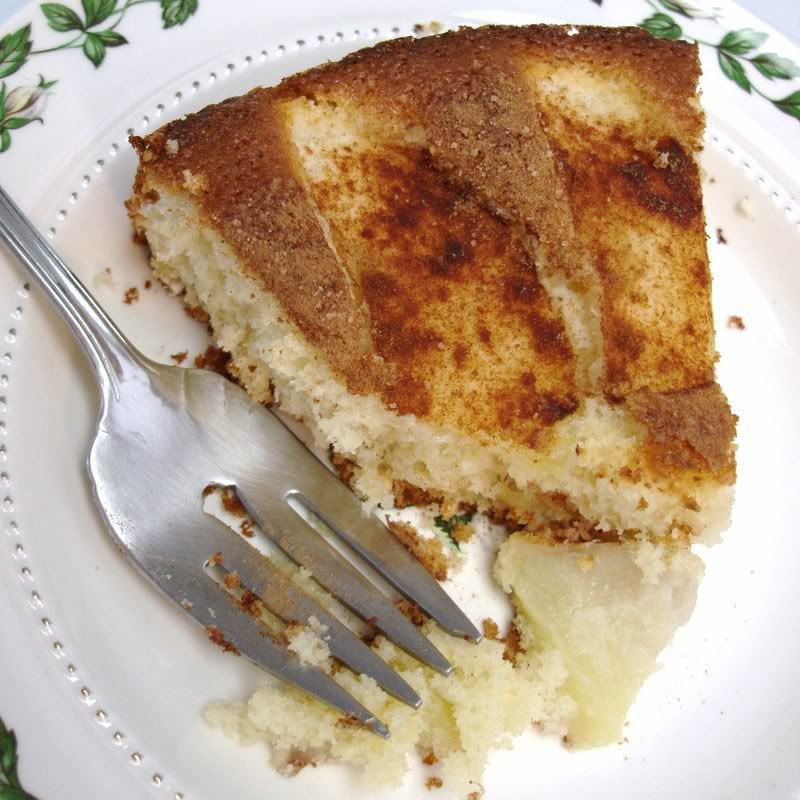 8 servings
3 points per serving
2 large eggs
½ cup sugar
¼ cup fat free milk
2 Tbsp. light butter, melted
1 Tbsp. vanilla extract
1 cup self rising flour, sifted
1 ½ Tbsp. cornstarch
1 large Ginger Gold apple, peeled, cored and sliced
1 tsp. ground cinnamon
1 tsp. sugar
Notes: I did not have an 8" pan, only a 9" so the baking time will be adjusted a bit. Also, I only had all-purpose flour. The substitution for self-rising is 1 cup of all-purpose, minus 2 tsp plus 1 1/2 tsp of baking powder and 1/2 tsp of salt.
Preheat oven to 400 degrees. Coat an 9" inch round cake pan with cooking spray.
Beat eggs and sugar with an electric mixer until light and fluffy. Stir in milk, melted butter and vanilla extract.
Combine flour and cornstarch and fold into the cake batter. Pour mixture into prepared pan.
Arrange apple slices on top of cake, sprinkle with combined cinnamon and sugar. Bake for about 20-25 minutes or until a knife or metal skewer comes out clean.
Contributed by Kim
My Plate, My World